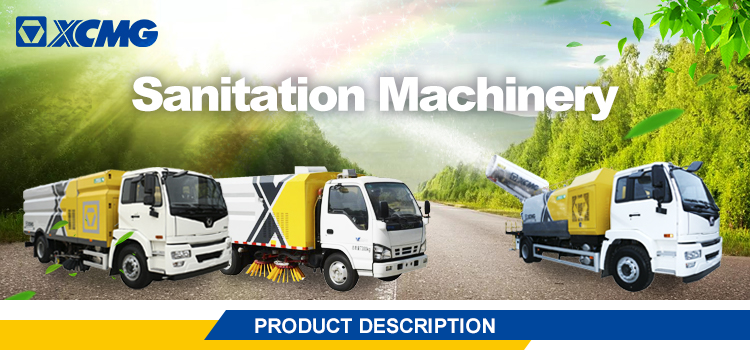 XCMG official new XZJ5120ZYSD5 compressed trucks garbage.
Performance Characteristics:
* High Compression Ratio, Fast Loading Speed The design idea of bidirectional compression, XCMG high quality hydraulic system and advanced press -loading structure is adopted; it can guarantee that different garbage is uniformly covered by pressure, the whole container has no dead corner, gap or blockage phenomenon, which can make the garbage volume reduced by 66.67%. The garbage loading capacity is increased by about 20% under the same container volume condition.
* Reduce Noise, Eliminate Pollution The manufacturing idea of"make green with green" is adopted to put an end to secondary pollution of any form. Cooperation with performed with domestic famous universities and colleges to strictly control the noise, letting residents enjoy a serene night. There are various sealing mechanism to lock the garbage and prevent leakage of gas and liquid, utterly solving the problem of secondary pollution during compression, loading and transportation.
* Intelligent Control, Comfortable Operation Extend the nerve ending of product control system; wireless remote controller is optional for operation, realizing"zero contact" between operator and domestic garbage.

| | | |
| --- | --- | --- |
| Parameters | Unit | XZJ5120ZYSD5 |
| Total Weight | kg | 12495 |
| Rated Payload | kg | 3700 |
| Max. Speed | km/h | 98 |
| Overall Dimension | mm | 7860x2470x2990 |
| Volume of Dustbin | m3 | 10 |
| Volume of Bucket | m3 | 1.75 |
| Height of Feeder-nose above Ground | mm | 1040 |
| Width of Feeder-nose | mm | 1680 |
| Sewage Tank Volume | L | 350+228 |
| Compression Cycle Time | s | 16-18 |
| Discharging Time | s | w25 |