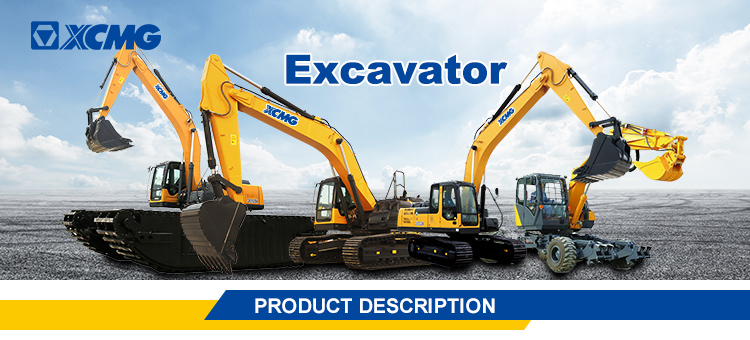 XCMG Factory 33 ton Hydraulic Crawler Excavator XE335DK.
XCMG XE335DK hydraulic crawler excavator as a model featuring strong power, excellent energy saving, outstanding environmental protection and strong durability, etc., and especially suitable for earthwork engineering, tunnels and other harsh construction environment.
XCMG XE335DK hydraulic crawler excavator has adopted advanced design and manufacturing methods and the latest standards in accordance with the product design concept of "high efficiency, excellent energy saving and outstanding environmental protection", and the ultimate target of "powerful functions, wide scope of applications and creation of more value for customers".
1. Ecological and economical
* Cummins engine with low fuel consumption, low noise and low emission can provide strong power.
* Negative flow control system maximizes work efficiency.
* Smart electronic control system can achieve the balance of power and hydraulic load.
2. Multiple applications
* Different boom and bucket combinations maximize utilization of different conditions.
* Multi-functional machine system meets various job requirements such as digging and crushing.
3. Comfortable operational experience
* Air Conditioner and Heator and multi-channel stereo air input system ensure the appropriate temperature.
* Equipped with advanced audio system.
* The cab equipped with hydraulic shock absorbers has multi-directional and multi-level adjustment functions.

Sales model

Unit

XE335DK

Operating weight

Kg

32500

Bucket capacity

m³

1.6-2.0

Engine

Model

/

QSL9

No. of cylinders

/

6

Output power

kw/rpm

202/2100

Maximum torque/speed

N.m/rpm

1230/1500

Displacement

L

8.9

Main performance

Travel speed

km/h

5.3/3.2

Swing speed

r/min

11.5

Gradeability

°

35

Bucket digging force

kN

206

Arm digging force

kN

160

Maximum traction

kN

260

Hydraulic system

Rated flow of main pump

L/min

2×272

Main safety valve pressure

MPa

36

Travel system pressure

MPa

34.3

Rotary system pressure

MPa

30

Pilot system pressure

MPa

3.9

Oil Capacity

Fuel tank capacity

L

520

Hydraulic tank capacity

L

270

Engine oil capacity

L

30

Appearance size

A Overall length

mm

10790

B Overall width

mm

3150

C Overall height

mm

3640

D Width of platform

mm

3050

E Track length

mm

4944

F Overall width of chassis

mm

3190

G Track width

mm

600

H Length to center of rollers

mm

4028

I Track gauge

mm

2590

J Counterweight clearance

mm

1198

K Min. ground clearance

mm

538

L Min. tail swing radius

mm

3360

M Track height

mm

1084

Working scope

A Max. digging height

mm

10265

B Max. dumping height

mm

7110

C Max. digging depth

mm

6735

E Max. vertical wall digging depth

mm

5010

F Max. digging radius

mm

10680

G Min. swing radius

mm

4125

Standard configuration

Length of boom

mm

6150

Length of arm

mm

2900

Bucket capacity

m³

1.6

Length of arm

m³

2670

Bucket capacity

m³

1.8/2Earthwork bucket

1.45/1.6Rock bucket